Why Do People Travel Together?
3 Main Reasons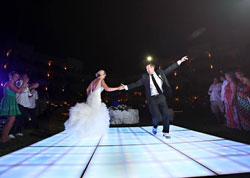 Nick & Maddy's dance under the
stars entertains their wedding guests.
1. A Special Occasion; Tropical Weddings, Family or Class Reunions, a Landmark Birthday, Incentive Reward Trips, and Vow Renewal trips bring people together for memorable celebrations in ideal tropical settings.
2. Special Discounts;
Resorts, Airlines, and
Cruise lines love groups!
They reward you for bringing them business with attractive prices and payment terms - and - depending on the size of the group - possibly a greatly reduced or FREE trip for one or more people! If you booked early, the resort or cruise line might upgrade your entire group to a more desirable room category than you paid for - giving you an even better travel value. We are experienced in arranging special airfare discounts for guests traveling to your destination wedding, or get-together. (and rewards for you!)
3. Fun!; People with common interests enjoy a tropical getaway together. Do you have a group of friends, family, co-workers or neighbors who enjoy any of the following? - scuba diving, relaxing on the beach, golf, tennis, sailing, beer drinking, wind surfing, gourmet meals, snorkeling, exploring island culture, reggae dancing, casino hopping, cruising, rock climbing, toasting a red sunset….whatever your pleasure…EverAfter planners will help you get your group together to enjoy!
How Many People make a Group?
Generally Speaking……..
Resorts consider a group of people occupying 10 or more rooms a group.*
On a 7 night cruise, Cruise Lines consider a group of people occupying 8 or more cabins to be a group.*
Major, scheduled airlines require a group of 10 or more people traveling together , or to the same destination from various airports.*
Tour companies operating chartered air flights require 20 or more people to travel together to enjoy group rates and terms.*
How do I book a group? Contact Us!
Advise us where & when you'd like to travel and how many you feel will join you. Indicate your preferences on the Request a custom quote form. Not sure which exotic location to travel to? Refer to our Island Directory - or ask us. We will check rates and space availability for your group, based on your preferences.
*Once you have made your reservation, your price & space availability is confirmed. Everyone in your group will receive the same great value!
EverAfter will coordinate the travel arrangements and payments for your group members, leaving you free to relax and dream of the special time you'll enjoy with friends and family. We'll help you make the trip special. From FREE Wedding Coordination to special event & activities planning to specially negotiated rates for your group, EverAfter is here to help you create a memory that will last forever.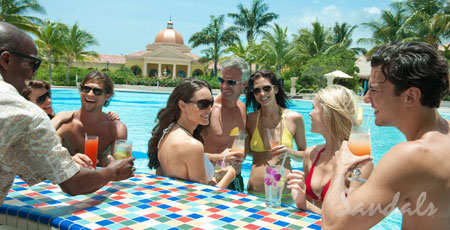 Request a Brochure • Back to Main Menu • Request a Custom Quote
*Group terms vary. They will be detailed in writing for you before group members are required to make a deposit. All discounts subject to availability and restrictions.