Say "I Do" in Paradise.
Leave the hassle of wedding planning at home
and Escape to a Tropical Paradise.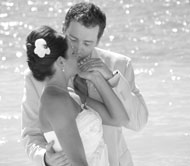 Are you dreaming of an intimate, barefoot in the sand ceremony for two…
Is your ideal a robust weddiing onboard a pirate ship…
Or in an oceanfront ggazebo on a pristine beach...
with 100 of your closest friends and family…
Or an extravagant ceremony & reception with almost limitless inclusions of Your Wedding. Your Style…
EverAfter can handle the details and leave you free to dream
of your fantasy wedding. Contact us for more information.
Why a Destination Wedding?
It's a unique event in an exotic location, provides adventurous experience options for you and your guests, and is a low cost, "no problem"ť way to create your Dream Wedding Memory. Escape from the average $24,000 "at home"ť wedding to the natural beauty & effortless elegance of a Tropical Wedding. Many of the first class all-inclusive resorts we suggest offer FREE WEDDINGS. The average is under $1,000.
The Memories are Priceless.Optional Enhancements can be added from the subtle to the extravagant.