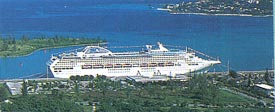 Every day, more and more
people are discovering the
all-inclusive pleasures of
a cruise vacation.
More singles, families, couples, honeymooners, second honeymooners and groups of friends are sailing away on the vacation of their lives. Why? The price of your cruise ticket includes all meals and in-between snacks on-board, your stateroom, activities, fun parties and entertainment-and, you'll find a cruise ship is a floating resort, with all the things a fine resort has to offer, and more. Dine like never before. Enjoy one great show after another. There is a cruise to fit every travel budget and interest.
Let your cares float away!

Cruising is a relaxing voyage to some of the most exotic and exciting places in the world. You can spend days and nights being as lively or leisurely as you like. Can't decide which islands you'd enjoy cruising to? See our Island Directory, Go island hopping without packing and unpacking, or hopping in and out of planes. Instead, enjoy…….as the captain cruises you to a variety of Caribbean jewels surrounded by white-sand beaches and crystalline waters.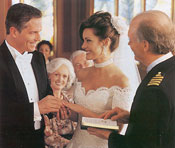 Get married onboard and then sail away on your honeymoon - or just sail away on an incredible honeymoon or anniversary trip. Cruising offers an atmosphere that's just right for romance…a cozy dinner for 2, strolling on deck at sunset, dancing the night away - under the stars - & so much to remember forever. Two ships currently have a wedding chapel onboard (more to come). Onboard the Grand Princess you can get married at sea by the captain in the "hearts & minds" chapel, or out on deck. Your EverAfter planner can work with the cruise line's wedding coordinator to help you plan your special wedding or vow renewal day. Enjoy an intimate wedding for two, or invite family & friends to share in the celebration. (Ask us about GROUP Discounts!) Most nuptials are exchanged onboard before the ship sails, in port with a beautiful island backdrop, on a pristine beach or in a tropical garden. Your honeymoon begins the moment you say "I do". To request more information on cruise wedding and romance packages, click here.
We are authorized representatives for all major cruise lines.
Click here for a list of some of the most popular cruise lines. Air / sea packages are available. They include specially-reduced airfare along with your cruise ticket, as well as airport transfers and baggage handling.

Cruises have a higher % of satisfaction than any other vacation experience. Once you get a taste of cruising, you'll come back for more. Whether you enjoy a smaller, more intimate ship, a sail-assisted ship, or the mega ships (1 even has a rock-climbing wall, golf course & ice rink!), whether you dream of cruising for a few days, or a few months…
EverAfter will help you create your dream cruising experience.
Request a Brochure • Tropical Weddings • Request a Custom Quote



Jenelle & Ryan

Port of St. Thomas